News
Jasmine Wins Food Network's "Christmas Cookie Challenge"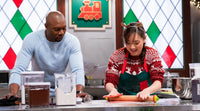 Jasmine took home the win on Food Network's "Christmas Cookie Challenge," claiming the title of Food Network Champion and a grand prize of $10,000! The episode, entitled "Merry Christmas Makeover," is Season 3, Episode 8 of the show and premiered on Nov. 18th, 2019.
The challenges included making North Pole characters doing an indoor and outdoor fitness activity and using surprise ingredients like tahini, almond butter, and olive oil to create a reimagined 3D Claus house with cookies. Jasmine used inspiration from her background in martial arts and her Korean heritage to ultimately win the competition.
The episode is available to stream on various platforms including Amazon Prime and YouTube.
You can also read a full recap of the episode on Foodsided!